Investa
Hybrid work and the three-minute city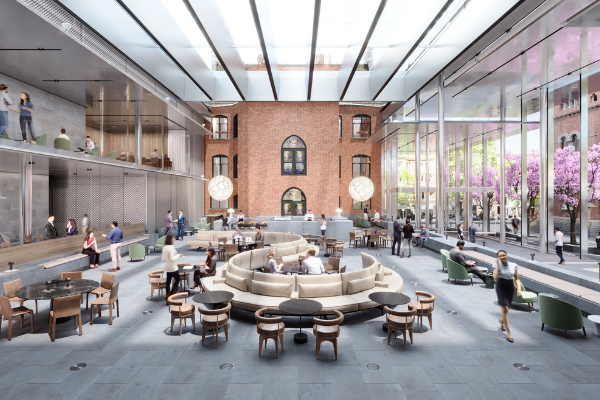 What office tenants are looking for in the era of 'extreme' amenity
"Forget the 30-minute city," says Michael Cook, Investa's Head of Property. "In the era of 'extreme' amenity, people want the three-minute city. They want to know how many restaurants and retail choices, transport options and experiences are right on the doorstep of their office."
From Paris to Portland, Melbourne to Montreal, cities around the world are developing plans to improve walking and cycling infrastructure, create new green spaces and provide greater access to amenity within a 30-minute radius.
But Investa's Michael Cook suggests an amenity-rich alternative already exists.
"People talk about the 30-minute city like it's never been done before. But that's what the central business district does so well – and why the CBD will continue to be the best place to work. The CBD is in reality, the "three-minute" city.
The benefits of agglomeration – the clustering of economic activity and resources in a particular area – are well documented. Concentrating economic activity in the heart of our cities decreases labour and transaction costs, while boosting access to markets and suppliers. CBDs also foster face-to-face connections, accelerating the spread of ideas and innovation and creating a positive feedback loop.
Australia's CBDs are "rebalancing" as people return to their workplaces and retail recovers, Mr Cook says. People are gradually returning to their offices, while retail sales are in line with pre-pandemic figures.
But Covid-19 has driven a "structural shift" in the way people work. "The hybrid era is here – and people won't accept second-rate office space anymore especially if the choice is to work from home."
At the heart of human connection
Microsoft's latest workplace trends survey, which surveyed 20,000 people in 11 countries and analysed trillions of Microsoft 365 productivity signals, found 73% of employees want a better reason to go into the office than just company expectations. For 85%, the reason to head to the office is to get their daily dose of human connection.
"We all know the most important conversations happen in between the Zoom meetings – during those few minutes when you're connecting with people face-to-face."
But Mr Cook says the power of human connection is just one piece of the puzzle. "People are also looking for convenience, experience and 'instant gratification'. Meeting all those expectations, alongside health, productivity and sustainability imperatives, is driving amenity to the next level."
One recent survey of Australian, American and British office workers found almost two-thirds (64%) were enticed by hotel-style features, and more than one in 10 saw failure to provide the right amenities as a deal breaker. The survey, which included more than 2,000 Australians, noted areas for socialising (28%); green space (26%); and a gym (21%) among the 'non-negotiables'.
So, what does 'extra' amenity look like? Mr Cook points to a few recent developments as signs of the times…
Workplace wellness: Hudson Yards
According to Investa's Future of Work Survey, 89% of businesses rate employee wellness as either "very important" or "extremely important" when weighing up workplace options.
Hudson Yards in New York takes wellness to the next level. Four super-tall skyscrapers encompassing some of the finest residences and office workplaces in North America atop a multi-level retail centre, put new meaning to the term "work, rest and play". Located adjacent to one of the world's most enjoyable urban walks, The Highline, Hudson Yards boasts some of the finest wellness facilities on the planet, including an Equinox fitness club with both an indoor and outdoor pool, a health centre and even a surgery capable of undertaking day procedures. In addition, the numerous food and beverage outlets in the complex offer a multitude of healthy dining solutions that are as awe inspiring as the spectacular views of the city skyline.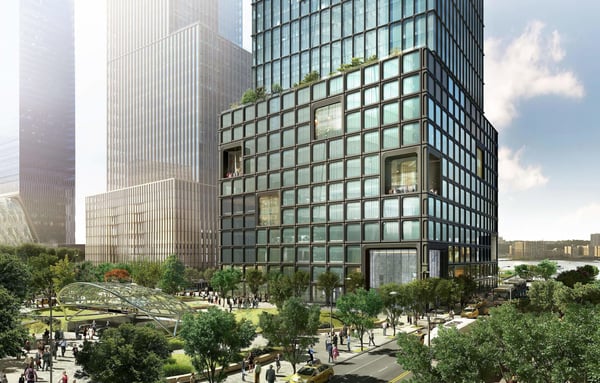 Hudson Yards: developed by Oxford Properties
Commuter connector: Parkline Place, Sydney
Investa and Oxford Properties Group, ("Oxford") are currently bringing to life two buildings along Sydney's Pitt Street. The commercial building, known as Parkline Place, in partnership with Mitsubishi Estate Asia ("MEA"), will be a sustainable, state-of-the-art workplace for 4,500 people; the residential building, Indi Sydney City, will feature 234 apartments that promise to redefine renting in the city.
Parkline Place was designed by acclaimed architecture firm Foster+Partners – the masterminds behind the Gherkin in London, the reconstruction of the Reichstag in Berlin and Investa's Deutsche Bank Place at 126 Phillip Street, Sydney. The 39-storey office will feature smart technology and a flexible design – but the position above the Sydney Metro's Pitt Street Station "will put Parkline Place head and shoulders above its CBD and suburban peers," says Mr Cook.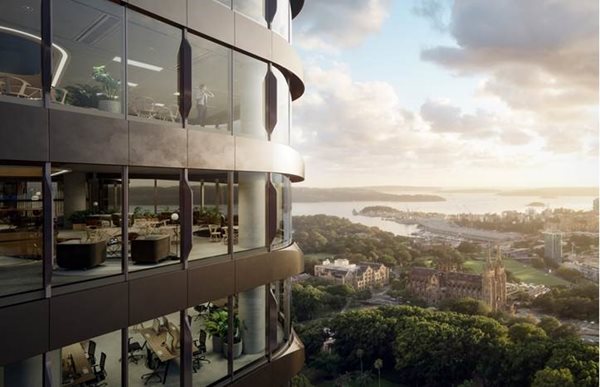 Parkline Place, Sydney
Amenity abounds at Mitsubishi's Marunouchi, Tokyo
Mr Cook has recently returned from a trip to Tokyo where "large workplaces are akin to first class airport lounges and smaller workplaces are all about character and convenience". Most impressive was the Marunouchi district of Tokyo which is home to numerous large commercial office buildings, many owned and developed by Mitsubishi. But with such a concentration of office workplaces, Mitsubishi has had to work even harder to humanise the district.
The podium spaces in each building feature tenant exclusive areas containing F & B outlets, club lounges and shared workspaces. Some buildings are large enough to contain convenience stores within the lounges, others provide cheap healthy meals for the diligent workforce. Tenants and their guests can mingle with other building users, heightening those serendipitous interactions that lead to innovation and higher levels of productivity.
In the evenings, many streets are closed off to become home to hawker-type food outlets, with entertainment and open markets selling all manner of goods from souvenirs to local produce. Nearly every building in the district is connected underground to Tokyo's world class rail transit system.
By extending the amenity of their buildings just that little bit further, and recognising the human touch, Mitsubishi has created an environment which is the envy of any commercial district in the world.
Beauty and the buzz: 120 Collins Street, Melbourne
Located among luxury boutiques and exclusive restaurants, 120 Collins Street has been the workplace for several decades of business movers and shakers – and Investa's upgrade to the building's communal spaces will position it for a new generation.
The building's new lobby – with double and triple-height glass walls, floating mezzanines and a gallery-style glass atrium roof – will create an awe-inspiring sense of arrival. "But today's tenants expect more than an impressive lobby, and 120 Collins Street's pièce de résistance is the Sky Deck".
With space to accommodate up to 150 people, the Sky Deck: "Will be an exclusive tenant experience zone for everything from Friday night drinks to fashion parades, yoga sessions to book club meetings," Mr Cook says.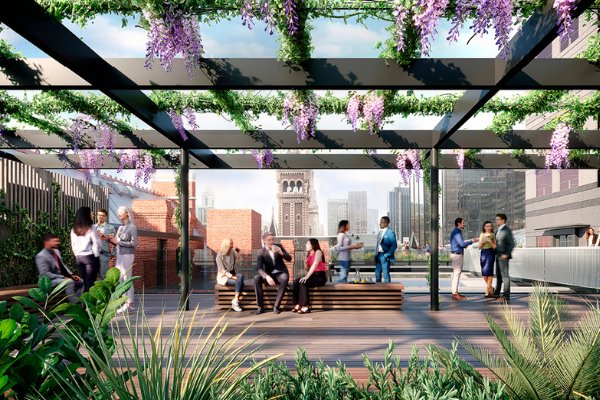 120 Collins St, Melbourne
Green scene: Roots in the Sky, London
Roots in the Sky, which reimagines an existing 1960s building at Bankside, will be London's first office building to deliver a 1.4-acre urban forest rooftop. On completion, community space, a rooftop restaurant, bar, swimming pool and terraces will be set alongside one of Europe's largest roof gardens featuring 100 established trees and 10,000 plants.
We know people want buildings that are sustainable in every sense – with high ratings for energy efficiency as well as serene, green space that provides respite from the hustle and bustle of the city. In fact, one report from EY and the Property Council found 86% of Australian office workers are looking for more green space in their CBDs. Roots in the Sky will do both. Parkline Place is less than 80 metres to Sydney's largest urban oasis, Hyde Park.
The magic formula?
As the search continues for the ideal tenant amenity, development and design professionals will need to step up to the plate, Mr Cook warns.
"At Investa, we are looking at assets through a future lens. There's no magic formula. Every tenant has different requirements, depending on their business, their brand, their culture and their aspirations."
JLL's latest Global Flex Report expects that a diverse roster of amenities will drive a 12% uptick in tenant demand when compared with business-as-usual.
"The best building owners are starting to set aside 'free float space' in their new developments to respond to an individual tenant's needs. It may be a rooftop bar, a sky garden or a running track. It might be the best end-of-trip facilities, hotel-style services or a jaw-dropping wellness centre.
"Whatever it is, the amenity will create a point of difference that gives landlords a competitive edge and positions tenants at the centre of the three-minute city."