Investa
First high-rise leasing deal for Sydney's most connected premium-grade commercial tower, Parkline Place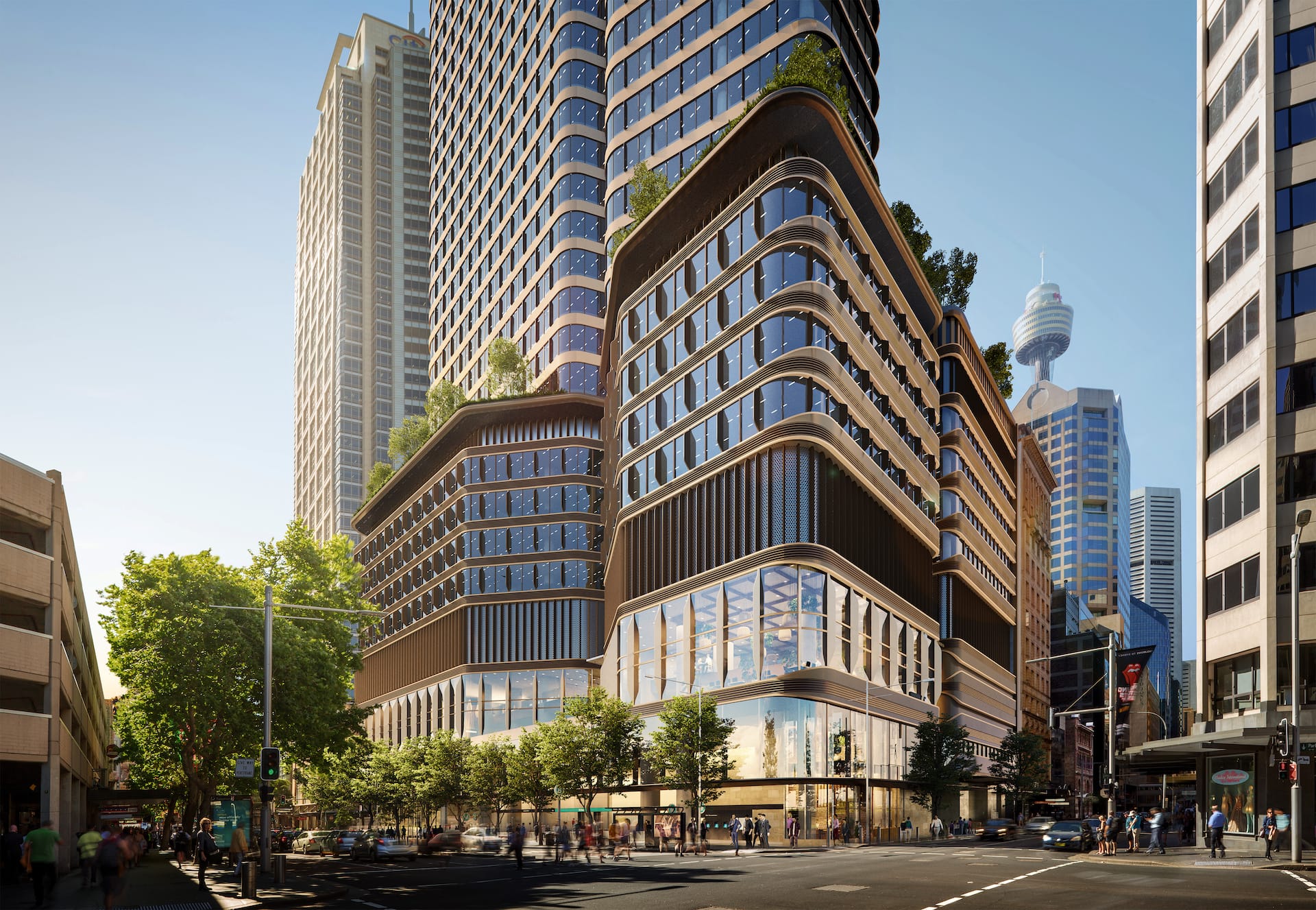 Employees and clients of BDO Australia will soon enjoy a new standard of workplace experience and sweeping views across Hyde Park, the eastern Harbour, and the city, from BDO's new office at the eastern gateway to the CBD.
BDO, a leading global accounting, tax, and advisory services firm, will occupy 6,100 square metres across levels 22 to 25 of Parkline Place on the corner of Pitt and Park Streets.
One of the largest leasing deals to be executed in Sydney's CBD since the pandemic emerged, BDO has also secured prominent signage rights to the podium, providing a unique brand presence.
Parkline Place, due for completion in 2024, is an integrated public transport over-station development, co-owned by Oxford Properties Group ('Oxford'), Mitsubishi Estate Asia ('MEA') and managed and delivered by Investa.
The premium 39-storey tower includes 47,839 square metres office space across 30 levels, and 1,285 square metres of hospitality and retail. It is conveniently located atop and integrated into Sydney Metro Pitt Street Station – 2 minutes to Martin Place metro station, 2 minutes to Central Station and 4 minutes to Barangaroo metro station. BDO is set to move in during 2025.
Parkline Place is designed by globally acclaimed architects, Foster + Partners and is being built by CPB Contractors. The building is a modern interpretation of classic Sydney sandstone, masonry and bronze that draws inspiration from the historical significance of its prominent location as a place to meet, trade and collaborate.
Parkline Place offers flexible, contemporary workspaces for the next generation of business ideas and collaboration. The design has adaptable large and small spaces and environments, including hotel-quality end of trip facilities, social hubs, a multi-purpose podium area, breakout spaces and interconnecting stairs. The building will be powered by 100 per cent renewable energy and it will be net zero in operations. Located near Sydney's oldest CBD park, Hyde Park, Parkline Place will provide easy access to outdoor recreation space, further enhancing employee wellbeing.
Michael Cook, Head of Property, Investa said: "We are delighted to welcome BDO to Parkline Place.
"In a competitive leasing market, BDO was committed to securing a building that provided their people with leading facilities in a state-of-the art building, in a central location, with the convenience of unrivalled, multi transport connections," Michael Cook said.
Alec Harper, Head of Australia, Oxford Properties said: "Welcoming BDO to Parkline Place is a major milestone for this project. It is further validation of our long-term investment thesis that best-in-class workplaces that are green, smart and focused on wellness and employee experience will continue to outperform.
"Parkline Place will set a new standard for the workplace experience in Australia. It will help leading firms like BDO to offer a differentiated employee and client experience in an ever more competitive talent and business environment. The successful workplace of tomorrow is not just a location for employees to assemble to complete their tasks; it inspires employees, fosters collaboration, learning and mentorship and is an extension of a company's brand."
Yuzo Nishiyama, Head of Australia, Mitsubishi Estate Asia said: "Throughout our strategic partnership with Oxford, we've remained wholly aligned in our long-term confidence in Sydney's office market and our belief that the best office product prioritises the employee experience.
"Parkline Place is a leading example of how an integrated development can transform how organisations interact with their workforce and continue to attract the very best firms."
Grant Saxon, BDO's Sydney Managing Partner said: "Our move to Parkline Place is testament to the strong growth and demand we've experienced over the past few years as BDO has cemented its position as one of the leading advisory firms in the market.
"BDO is known for exceptional client experience and this office move will accommodate our people and clients in an environmentally sustainable and flexible office environment. Moving into a building of the quality of Parkline Place makes a statement about where we are as a firm. The new premises will provide a superior office experience of quality, amenity and sustainability reflecting our position in the market from both a client and talent perspective.
"We believe Parkline Place will provide an environment that encourages collaboration and hybrid ways of working and its location and integration with Sydney's transport network will make it easy for our people and clients to access our team."
For more information: www.parklineplace.com.au