Investa
Global law firm Ashurst to anchor 39 Martin Place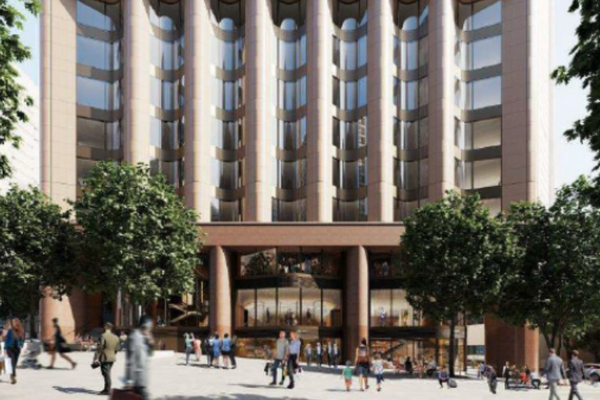 Investa and Manulife Investment Management are delighted to announce that global law firm Ashurst will anchor a new, premium grade tower at 39 Martin Place, Sydney.

To be owned by Investa Commercial Property Fund (ICPF) and Canada's Manulife through a 50/50 Joint Venture, 39 Martin Place is one of two office buildings being developed by Macquarie as part of Sydney Metro's Martin Place Integrated Station Development.

Designed by acclaimed Sydney architect, Alec Tzannes, 39 Martin Place will boast world class sustainability features, targeting a 6 Star Green Star rating, a 5.5 Star NABERS Energy rating and a NABERS water rating of 3.5 Stars, while being 100% powered by renewable energy sources.

The premium tower is expected to be completed in 2024 and will incorporate 30,000 square metres of office space across 28 levels, as well as 2,000 square metres of retail. A unique feature of the asset is its direct access to the soon to be completed Martin Place metro station, which will also connect with the existing Eastern Suburbs railway line.

Through its anchor tenancy, Ashurst will occupy up to 10,000 square metres in the low rise of the building.

Brendan Looby, Fund Manager, ICPF said: "ICPF and Manulife are proud to welcome Ashurst to its premium new address at 39 Martin Place.

"Interest in the building has been strong, with tenant enquiry ranging from 400 to 4,000 square metres on the remaining available 20,000 square metres. In addition to its outstanding sustainability credentials, Investa has worked with Macquarie and its construction partner, Lendlease to make the building one of the first all electric new office towers in Sydney's CBD.

"Despite a challenging number of years brought about by the pandemic we have strong conviction in the fundamentals of premium commercial assets as shown by the fund's acquisition of 39 Martin Place, alongside our JV partner Manulife, during the depths of the pandemic.

"Securing Ashurst as an anchor tenant validates our decision to acquire this asset. The addition of 39 Martin Place will further improve the quality of the fund, which recently celebrated its 20 year anniversary, delivering its investor base an attractive 9.5% total return over the life of the fund," Mr Looby said.

Kiki Lai, Managing Director, Real Estate Portfolio Management, Asia, Manulife Investment Management, said: "Manulife Investment Management is building and operating a portfolio of assets like 39 Martin Place that is designed to provide long-term value for our investors, our communities and our planet. Sitting atop the new Martin Place metro station in the heart of the CBD, the asset, upon completion, will transform the traditional role of an office building. The pandemic has also inspired us to future-proof the asset with world-class sustainability features and accelerate the transformation of the Martin Place precinct into a 'place to connect and place for everyone'."

Kenneth Tsang, Senior Managing Director, Asia Real Estate Asset Management, Manulife Investment Management, said: "With Ashurst's tenancy, we are excited to deliver to our stakeholders an excellent result ahead of the building's completion. This is exactly what we do at Manulife Investment Management – as an entrepreneurial investment manager we are committed to delivering sustainable results with institutional discipline. We look forward to sustaining the momentum to deliver results to our investors through the great partnership with ICPF."

Commenting on the proposed move to the new building, Lea Constantine, Head of Region Australia at Ashurst said: "We are pleased to have secured a tenancy for our Sydney office at 39 Martin Place. This move is aligned with Ashurst's global strategy to create sustainable, collaborative, and agile working environments.

"The green credentials at 39 Martin Place are very impressive, and in line with the firm's own sustainability goals and commitment to reducing our carbon footprint.

"Our new workplace will be a step towards achieving our vision to be the most progressive global law firm, and represents a significant investment in our people, our clients and the way we want to work."

39 Martin Place is situated in a prime location for future occupants, sitting above the entrance to the Martin Place metro station, with frontages to Martin Place, Castlereagh Street, and Elizabeth Street.

The building features a dramatic street presence, paying homage to its heritage near-neighbours, including Macquarie Group's global headquarters opposite at 50 Martin Place.